Why Sanitization Service?
AYS Sanitization Services Services
Sanitization is a professional job
We come across situations every day that remind us to keep clean and healthy. The latest example being the Covid-19 pandemic. In recent years, home sanitation has become a popular topic. It is more than just cleaning. Home sanitation is also about keeping germs out of your home and your family's safety in all seasons. AYS Max is the right company to help you with home sanitization in Mumbai.
A professional house cleaning will remove dust, dirt, and other particles from the living spaces, but it doesn't include cleaning any unseen germs. Sanitization not only stops the growth of harmful bacteria, viruses and fungi but also prevents them from growing. Well-planned home sanitation services can also help to eliminate allergens.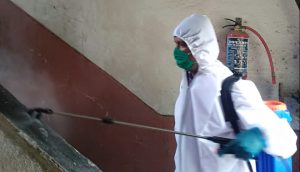 What do home sanitization services entail?
While a clean home will keep it free of clutter, a well-sanitized home will keep illnesses at bay. When we say home sanitization services, it involves the use of chemical cleaners to remove the existing bacteria and to provide a layer of protection to prevent them from returning for a long time. Home sanitization services Mumbai involves sanitization of not just the walls and floors, but also curtains, furniture, and more.
Why do you need professional home sanitation services?
Professional home sanitation services will help you in completely cleaning your house, removing all visible dirt and dust, and also removing the invisible germs and bacteria.
Given the nature of the cleaners put into use for sanitization, it is the professionals who understand the best for your home. The professionals will know the right solution depending on the kind of flooring you have and other factors, ensuring absolute safety while the home sanitization services are underway. They also factor in the presence of pets and kids at home when choosing the cleaners.
If you are looking for just sanitization then you can opt only for that and if you want a complete cleanup of your home then you can opt for the home sanitation services, which encompasses both.
Professional home sanitation services also mean that they focus on all those areas which we forget about like doorknobs, light switches, home linens, furniture fabric, curtains, and more.
Of course, the best part about having professional home sanitation services is not just about the quality of service but also the fact that it gives you time to relax and indulge in other work.
What can AYS max professional home cleaning services do for you?
Reputed for the quality of services provided in and around Mumbai, AYS max takes pride in delivering holistic home sanitation services.
The home sanitation services from AYS max encompasses,
Surface disinfection using the most advanced and smart tools and with the right sanitizing agents.
Complete home sanitation services of all touch surfaces which come in constant contact with people like the doorknobs.
Absolute cleaning and sanitization of the entire house, from the kitchen to bedroom, from balcony to bathroom, and on all kinds of surfaces.
Use of ULV fogging/cold fumigation of the area with hospital-grade high-quality chemical agents.
Completed on time and the space is ready to use with absolutely no worry about infections.
Whether you are looking for home cleaning in Powai or home cleaning in Dadar, a simple search for the best home sanitization services Mumbai will land you in AYS max.
Want to Get 25%

Off?

Save Time. Save Money.
AYS Sanitization Services
How We Work