Home cleaning services in Mira Road
Office cleaning services in Mira Road.
A Professional Deep Cleaning Service
Office deep cleaning in Mira Road and Home cleaning Mira Road.
Cleaning is not an easy job. Cleaning a 20 feet wall is never easy. Cleaning an office at a luxurious location is always a task and can be difficult to clean the entire office or clean the entire home from corner to corner. Windows, wardrobes and walls, washrooms and pantries or kitchens, workstations, and complete floor, with grills, doors and electrical fittings is not a kids play. Cleaning is an important task for professionals to accomplish.
Deep cleaning an office requires skilled professionals who have the right tools and expertise. To complete the job, you need to have months of experience and proper training. Perfectionists can save time and effort. Special training is required for the use of industry standard A-grade chemicals.
What we offer: 
Man Power :  According to the area
Per SqFt : Rs8*/-
*18% GST will be applicable on total service charges.
Process Followed for Office Cleaning
♦ Start by doing a high dusting or all vents and light fixtures.
♦ Vacuum all blinds, windows, tracks, etc.
♦ Dust all walls and clean all light switches.
♦ Clean all Doors & knobs.
♦ Dust all baseboards.
♦ Carpets / scrub all floors.
♦ Clean and sanitize all computer keyboards and screens.
♦ Clean all kitchen cabinets, appliances, refrigerator, etc.
♦ Clean all restroom walls, toilets, urinals, sinks.
♦ Sofa cleaning
The Process of Cleaning, How is it done?
Professionals knows where to start and how to complete it on time. The tasks are divided according to the size of the site. An action plan is made to do it properly and a supervisor keeps an eye so that they can complete the site on time. Managing time and perfecting the resources comes with time and experience, and that is where AYS Max is good at.
Areas covered in AYS Max office cleaning services:
Complete floor cleaning with a single disc machine and certified chemicals.
Polishing of marble flooring.
Furniture and workstation cleaning.
Wardrobes inside and outside cleaning.
All electrical fitting cleaning.
Window cleaning from inside and outside. (outside cleaning only when it supports space for professionals)
All doors and touchable points cleaning.
Lift area and surrounding touchable points cleaning.
Stairs cleaning with a single disc machine or hand disc machine.
Outside tiles cleaning with the machine.
Sofa shampoo wash with hand scrubbing machine.
All washrooms deep cleaning with certified chemicals.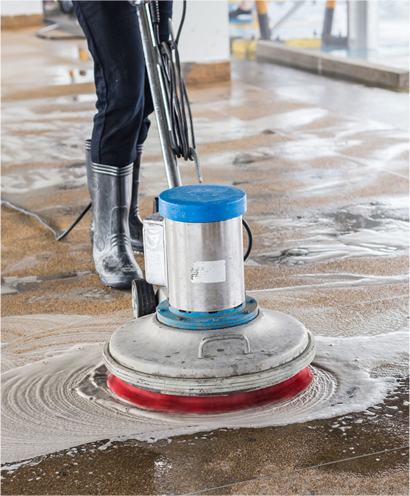 When is it required to take a professional office cleaning service?
According to the experts, deep cleaning of an office is required in every two to three months. But it depends on the usage of the office. For example, if the office is huge and the staff is over 100, it will require deep cleaning every one to two months.
Why is it necessary to take a professional cleaning service?
Cleaning, which is done daily, is not done with chemicals. Also, professional tools are not used daily.
The cleaning staff cannot clean every part of the office. It requires cleaning time, so the cleaning staff can only do the mopping and dusting.
The cleaning staff rarely does windows. Electrical fittings and washrooms are not done by the cleaning team with professional tools daily.
Even sofas are not cleaned at regular intervals. Deep cleaning services help the office to maintain the floors, sofas and many other things.
How to find out about a good office deep cleaning service agency?
Check out the reviews online: reviews are essential for a service. Good reviews can build confidence in the company. We always recommend checking the reviews.
Home Deep Cleaning Mira Road, Mumbai
Prices for Home Cleaning Services Mira Road, Mumbai
| | | |
| --- | --- | --- |
| Flat Size | Vacant Cleaning | Occupied Cleaning |
| 1 RK (below 400sqft.) | INR.3300 | INR.4300 |
| 1 BHK (below 500sqft.) | INR.3500 | INR.4500 |
| 2 BHK (below 700sqft.) | INR.4500 | INR.5500 |
| 3 BHK (below 1000sqft.) | INR.5500 | INR.6500 |
| 4 BHK (below 1200sqft.) | INR.6500 | INR.7500 |
Vacant house cleaning is the place ready to shift or move. A vacant house is empty with only fittings in the kitchen, fixed almirahs,  and cuboids. Deep cleaning of a vacant house involves everything right from the floor to the roof. Doors, Windows, Washrooms, Walls etc. are included in vacant house cleaning
Occupied House is a house where everyone is already living. An occupied house contains all the furniture, curtains, paintings, beds and sofas, antiques and more. Everything is cleaned inside the house in a occupied house deep cleaning service.
Home Deep Cleaning Mira Road, Mumbai
Deep Cleaning Services
The Work
Also available in
Full home cleaning in Agripada, Mumbai, India.
Full home cleaning in Matunga, Mumbai, India.
Full home cleaning in Camballa Hill, Mumbai, India.
Full home cleaning in Marine Lines, Mumbai, India.
Full home cleaning in Kampathipura, Mumbai, India